Last Updated on September 12, 2023
Where to Watch BBC Documentaries – for Free!
What are some of the Best BBC documentaries?
The BBC is rightly famous for producing some of the world's best documentaries with presenters like Brian Cox and David Attenborough. Amazing graphics, incredible cinematography is usually taken for granted especially in scientific and natural world programmes.
Of course, it really depends on your interests but there's so much available and new series are being added all the time. You should find lots of interesting stuff to watch whatever you like.
Here's a list of some of the recent BBC Documentaries –
Seven Worlds, One Planet – David Attenborough Guides through more wonders of the world.
Blue Planet II: A new four-part series that follows the world's ocean in an exploration of its depths, breadth and diversity.
Planet Earth II: The second sequel to David Attenborough's seminal series.
The Great British Bake Off: The popular BBC show that celebrates Britain's love of baking and all things sweet.
Wonders of the Solar System: Brian Cox explores the planets of our solar system.
Louis Theroux – covers lots of interesting and often very controversial subjects.
However, the list is huge, there are hundreds of documentaries on crime, politics, current affairs, medicine and loads of other interesting subjects. As this is the BBC all are well researched and presented. Some of the natural history documentaries actually took years to create and cost huge amounts of money to produce.
Some of the Current Documentaries Available Online
This is a current snapshot from the Science and Nature category of documentaries on BBC iPlayer. There's many, many more and you can watch the entire series of any of these documentaries whilst they're archived on the BBC's website.
How Can I Watch BBC documentaries for free?
There are a number of ways to watch BBC documentaries for free however these are dependent on where you're located. The BBC is of course – Britain's national broadcaster and its content is broadcast free of charge to anyone who has a UK TV licence. The BBC also makes most of its programmes available on the BBC iPlayer archive to watch online too. Most of the programmes are available for up to twelve months after but many of the major documentaries are available for much longer.
You can catch some individual shows on various platforms like YouTube and other video platforms but to be honest it's a pretty hit and miss affair. It's rare to find decent copies on video sites though as unofficial ones will be removed for copyright infringement.
There are also of course lots of options using IPTV and pirate TV streaming channels, plus you can sometimes watch the odd documentary through services like Plex and Kodi.
The best way without doubt though is to watch on official media sites and the best one for BBC documentaries is obviously the BBC iPlayer.
How to Watch BBC Documentaries for those Not in the UK?
If you're outside the United Kingdom, then I'm afraid the BBC iPlayer won't normally be accessible to you. When you visit the site, your IP address will be checked and if it's outside the UK then you won't get access. It doesn't matter whether you have a TV license, whether you're from the UK or anything – if you're physically outside the UK then it won't work. It's a complete block for anyone trying to access from non-UK network addresses.
Here's some of the messages you may get instead.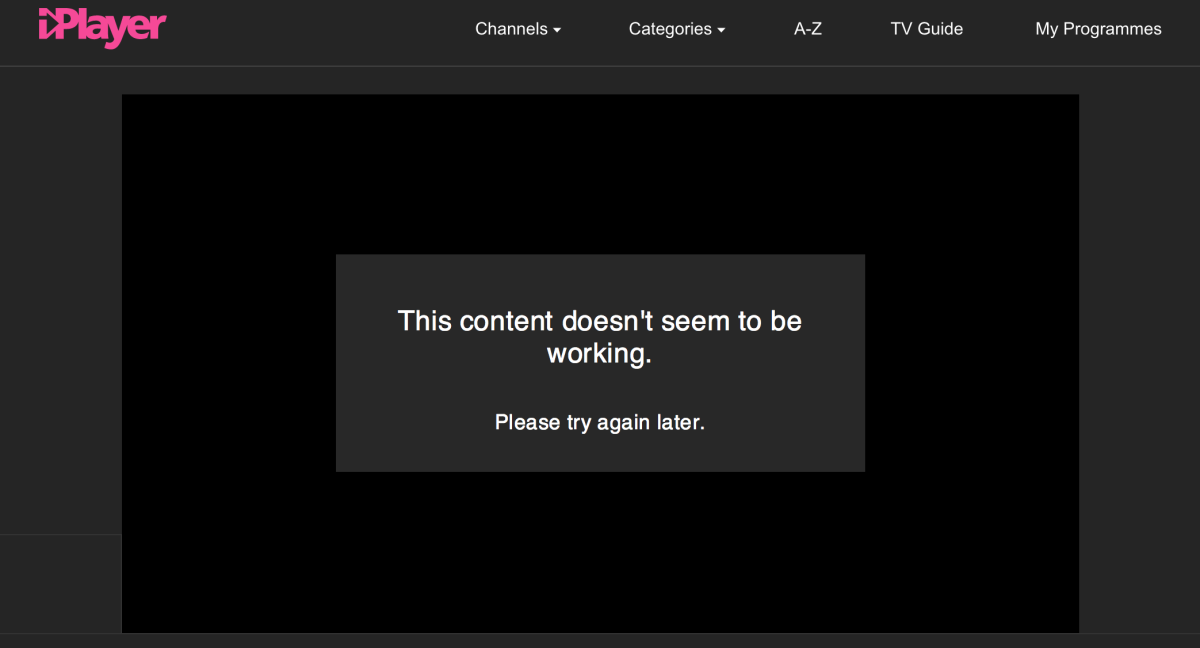 Of course, this is not the complete story! As you read this millions of people from all across the world are actually watching BBC iPlayer outside the UK borders. Whether they're ex-pats and retirees on the Costa Del Sol to people learning English from the BBC News in the Far East, Africa or South America.
There is a way to watch the latest documentaries and indeed everything else BBC iPlayer has to offer irrespective of where you actually are.  Just scroll down for the section on how to stream BBC in USA or other countries.
Main Choices for Watching BBC Documentaries
So, if you're keen to indulge in some amazing David Attenborough shows or explore the Universe with Brian Cox and you're not inside the UK, there are two main methods people use. We're discounting methods like downloading torrents, dodgy IPTV channels or spam filled streaming sites because they're risky, unreliable and just too much effort for most of us! If you want something specific it might be worth checking YouTube or your local TV channels as you could get lucky.
BBC Select – USA/Canadian Access
If you're lucky enough to live in the US or Canada, then you have a great option apart from searching home-based TV stations. It's called BBC Select and is an official BBC site which allows access to the latest and best BBC documentaries in exchange for a subscription. It's available on Amazon Prime and Roku and you can access from here – BBC Select – How to watch BBC in the USA and Stream Documentaries . Prices obviously are subject to change but currently they're the equivalent of $4.99 a month in the USA, you can also try it out on a free 7-day trial on the link above too.
It doesn't have every documentary that the BBC produces but some have different licensing restrictions, but it does have a lot! If you're considering this option, it's best to test out the free trial as the content does change frequently. They're organised into lots of different categories too – History, travel, culture, true crime, news, politics and many more. The BBC is one of the world's biggest producers of quality documentaries so there's loads to choose from.
It's a decent option if you're from the US or Canada. Although remember you won't have access to the thousands of other shows that the BBC produces or any of the live TV channels which broadcast 24/7 either.
Using a VPN to Watch BBC Documentaries on iPlayer
This is probably the most popular option for watching BBC iPlayer from anywhere in the world. Although it's a workaround and not strictly allowed by the BBC, it's still used by millions of people from across the world.
It basically involves using something called a VPN (Virtual Private Network) service to hide your location and make it look like you're actually in the UK even if you're not. Although it sounds technical it really isn't – remember literally hundreds of thousands of retired people with no computer experience whatsoever use VPNs every day to watch the BBC and other UK TV stations online.
Here's a demonstration of how it works –
This demonstration uses NordVPN to bypass the country restrictions, you can see
their latest discounts here
– although this changes all the time!  There are other VPN services which work too.
Watching BBC iPlayer Through a VPN
As you can see it's really simple to do, merely select a UK server before you start your browser. In this example we used a VPN service called NordVPN as it's easy to use but there's lots of other VPN options too of you search around.
Just be careful though as many of them don't work with the BBC anymore. Check first and ensure you can get your money back if there is a problem.
Which is for Me – VPN or BBC Select
This can be an either a very simple decision or a complicated one depending on your viewpoint. If you want completely legitimate access to a huge resource of BBC documentaries and are based in the USA or Canada – BBC Select is at least worth a look. In fact, with the free 7-day trial, you might as well check it out anyway.
Beyond that though there's a few key differences that will probably help you decide whether you go one way or the other (or even both!).
Overview of BBC Select
Here's a quick summary that might help you decide which direction is best for you.
Advantages of BBC Select
High Quality/High Definition
Huge Range of BBC Documentaries
Some Channel Exclusives
Legitimate Offering
Need Apple TV, Amazon Prime or Roku TV
Disadvantages of BBC Select
Only shows documentaries.
Only Selected Titles/series
Only accessible from certain locations.
No extra external software/service required
Using a VPN to Watch BBC iPlayer
Here's some important points to consider using a VPN to access BBC iPlayer.
Advantages of VPN/BBC
High Quality/High Definition
Large Range of Documentaries
All Latest Documentaries released here first
Thousands of other programmes available too
Eleven Live Channels including BBC News, Sports, Drama etc.
Can Watch Other UK TV Sites – e.g., ITV Hub, Channel 4
Disadvantages of VPN/BBC
Require VPN Subscription Service
Need Decent Internet Connection
Have to 'Pretend' you are in UK
Have to 'Pretend' you have a TV licence.
Summary of Options
Basically, both options have a cost – access to the BBC iPlayer is actually free but you'll need a VPN subscription to access it. The cost depends on the VPN subscription service you use. A good option like NordVPN will cost you about the same if you pay month by month but around 50% of that if you pay up front for a year or two.
If you want a completely legitimate option, then you should probably choose BBC Select. The service is part of the BBCs project to open up different parts of its content to the rest of the world. The streaming service Britbox is another one which is similar to BBC Select but contains older programmes from the BBC's huge catalogue.
There's no doubt which is the best value though – BBC iPlayer is one of the best media sites on the planet and packed with all sorts of programmes plus the best in drama, music, comedy, sport and current affairs. If you have young children also check out cBeebies and CBBC for award winning kids TV too.   Plus of course you'll get eleven live streaming channels and see all the latest documentaries as they are released.  You can even enjoy the Match of the Day live stream on a Saturday night, remember though they only show highlights not complete matches.
FAQ – Some Additional Questions
Here are a few additional questions that we have had at this site about the BBC and using VPNs.
Do I Need a UK TV Licence for the BBC?
You will be asked if you have a valid UK TV licence when you start using the BBC iPlayer. However as long as you say Yes there will be no problem – there's no check or need for any sort of number.
Will Any VPN work for accessing the BBC?
Potentially any VPN which has servers based in the UK will work. However, the BBC blocks many VPN services, so lots don't work. There are many like NordVPN which work fine though so check before subscribing.
Can I Download and Stream Documentaries?
You'll need an active internet connection for BBC Select. However, BBC iPlayer has a download option which allows you to download programmes to watch offline.
Is Watching the BBC Outside the UK illegal?
No, it's not illegal and it's definitely not criminal. Although it is breaching the BBC's terms and conditions so there's always a chance you can get blocked. Literally millions of people have been doing this for many years though.
I've Heard VPNs don't work with the BBC now?
The BBC has been actively blocking VPNs for the last few years, so it's true that in 2022 many don't work.  Sometimes even big VPN companies like ExpressVPN stop working. Fortunately, many still do but they often enable specific VPN servers to use for watching. For example – here's the best NordVPN servers for the BBC – UK# 1840-1847, 1850-1863, 1865, 1869, 1873, 1875-1878, 1880-1881, 1900-1901, 1903-1904, 1911, 1913, 1917, 1919-1920.
Do I Need a British Postcode to Watch the BBC?
You will be asked when creating an account for the BBC iPlayer for a UK postcode.  All you need to do is to input a valid UK postcode from somewhere, you don't need to live there.  Literally any postcode will do – you can find some here if you're stuck – Where Can I Get a Valid Postcode for ITV in 2022 (iplayerusa.org)