Page updated in April 2020 to test Nord VPN to watch Channel 4 TV shows online. Here's the discounted deal that I used – Nord VPN Discount Page.
Although Channel 4 viewing figures lag behind the dominant BBC and ITV channels in British broadcasting, 4oD is probably the most popular video on demand service if you discount the BBC iPlayer.  Several hundred millions views recorded every year, suggest that it's going from strength to strength.  It's not surprising as it has some great program titles, some of them reaching back to the beginning of the channel in 1982.
There are in fact several channels accessible linked with Channel 4 – 4oD, E4, More 4, 4 Music and even Film 4 are all accessible online.   However due to the usual licensing issues, all of these channels are only available if you are resident in the United Kingdom.   So if you're working away, travelling, on holiday or just live somewhere else – all these great TV shows are not accessible, well not normally!
Here's what happens if you fire up 4 on Demand, this is from a cafe in Spain – basically a message saying All 4 content is not available in your current location.
When trying to access the live Channel 4 service from outside the UK, you normally won't even get a message.   Every time I try it just sits there buffering and eventually times out – like this.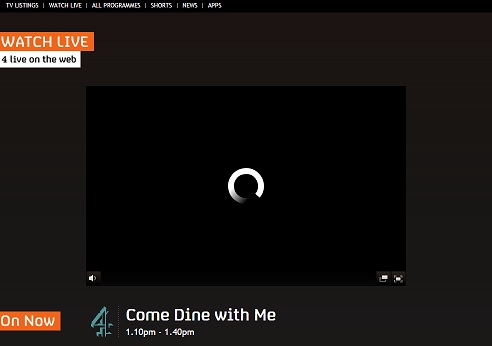 The problem is that all the web sites look up your IP address when  you connect, and then check your location.  If it's registered in the UK then the sites will work normally – if you're connecting from the USA, France, German or anywhere else then you'll get blocked as above.  But fear not, it's perfectly possible to get passed all these restrictions.  The following section will show you how to watch E4 in America or indeed anywhere else.
How to Watch Channel 4 in US or Anywhere!
Fortunately you can use programs which will effectively hide  your true IP address and access these sites relatively easily.  Here's a video demonstrating the process – Watch Channel 4 Online

As you can see it's relatively simple to watch Channel 4 live abroad, you simply need a VPN service to hide your location.  The software sits in your task bar and you just click to change your location, you can also use your account on other devices like iPads, phones and tablets, just look for the guides in the members area or read this post.  You can use your subscription on up to 6 devices so you can enjoy UK Television on your iPad or smartphones too while travelling.
Not Just UK Channel 4 Online – Watch the BBC on your Smartphone Too
Remember this won't just let you watch All 4 abroad, when you're connected to a British VPN then you can access and watch any UK TV abroad whenever you like. You can effectively unlock any media site wherever you are, everything from the the BBC and ITV in the UK to the US sites like Hulu and HBO.  It even works with subscription channels, unlocking Sky Go or even allowing you to choose which version of Netflix you access (hint the US one is by far the biggest!).
Even if you stick with the free British channels, an inexpensive VPN service like this is much better value than paying for a full cable subscription.   The BBC, ITV, Channels 4 and 5 have dozens of channels between them and what's more they're full of decent shows not 'filler' stuff that you often find on cable and satellite.  Most also have a decent archive, you can watch all the BBC box sets now for 3 months or more.  Seriously there is so much free stuff on the BBC and Channel 4 archives you'll probably not watch anything else.
Now a small warning, the market for these VPN services can seem large but unfortunately many of these companies are little more than a website and a simple hosted server.   Many of these don't work very well to watch British TV as they keep getting blocked.  Most work fine to watch Channel 4 TV shows online but the larger stations like the BBC take measures to try and stop these methods.  However you may see reports of companies restricting access and some people have had messages that 4od VPN not working for them.   There are professional companies though, who provide secure and fast access to large networks of servers which will work for all the main British TV channels including Channel 4 abroad.
Try the best value one here, and enjoy all UK television on all your devices  –
Nord VPN Special Discount
by