Last Updated on September 11, 2023
Can You Watch Channel 4 in America ?
Updated the page to test NordVPN to watch Channel 4 UK TV shows in the US. Here's the discounted deal that I used – Nord VPN Discount Page.
Although Channel 4 viewing figures lag behind the dominant BBC and ITV channels in British broadcasting, 4oD is probably the most popular video on demand service if you discount the BBC iPlayer. Several hundred millions views recorded every year, suggest that it's going from strength to strength. It's not surprising as it has some great program titles, some of them reaching back to the beginning of the channel in 1982.
Like most of the larger TV companies they are continually renaming and re-branding their online services and now Channel 4's is known as All 4. Currently All 4 is the name for the on demand service from Channel 4. It's a great place to catch up with your favorite shows and discover new ones.
Is Channel 4 Free?
Yes, it's a free to air channel which is financed primarily from advertising revenue.  There is a premium version which allows access to extra box sets and removes the adverts – it costs £3.99 per month currently.
What Channels are on All 4 ?
There are in fact several channels accessible linked with Channel 4,  4oD, E4, More 4, 4 Music and even Film 4 are all accessible online. However due to the usual licensing issues, all of these channels are only available if you are resident in the United Kingdom. So if you're working away, travelling, on holiday or just live somewhere else – all these great TV shows are not accessible, well not normally!
Trying to Access Channel 4's Streaming Service Outside Great Britain
Here's what happens if you fire up 4 on Demand, this is actually from a cafe in Florida – basically a message saying All 4 content is not available in your current location.
Blocked Because of Your IP Address
When trying to access the live Channel 4 service from outside the UK, you often won't even get a message. Every time I try to watch Channel 4 abroad it just sits there buffering and eventually times out- like this.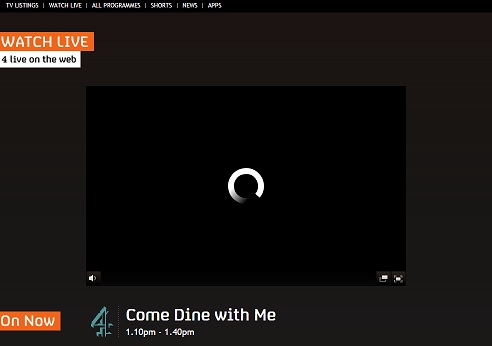 So what's happening – why can't you watch UK channel 4 in US? The problem is that all the web sites look up your IP address when you connect – then perform something called geo-location. This is basically using your network address to check where you actually are located.  This information is used to determine what happens next, usually referred to as geo-targeting. Most larger websites especially media ones will operate completely differently depending on you are actually physically located.
So, if that IP address is registered in the UK then the sites will work normally and everything will work. If you're connecting from the USA, France, German or anywhere else (i.e. outside the UK) then you'll get blocked as above. It's called being geo-blocked and it initially looks like it's not possible to watch all 4 or any UK streaming platform. But fear not, it's perfectly possible to get passed all these restrictions. The following section will show you how to watch Channel 4 in US plus other UK channels like E4 anywhere in the world.
How to Watch Channel 4 in the USA or Anywhere!
Fortunately you can use programs which will effectively hide your true IP address and access these sites relatively easily. Indeed many of us have been enjoying Channel 4 outside the UK for many years. Here's a video demonstrating the process – Watch Channel 4 Online
As you can see it's
relatively simple to watch Channel 4 in the US
or anywhere else for that matter, you simply need a VPN service to hide your location. This stands for Virtual Private Connection and is literally a secure connection to another server which hides your real location. The software sits in your task bar and you just click to change your location, you can also use your account on other devices like iPads, phones and tablets and even a smart TV, just look for the guides in the members area or read this post. There's a lot of choice but the best VPNs will have access to fast secure servers and simple software you can install on all your gadgets. You can use your NordVPN subscription for example on up to 6 devices so you can
enjoy UK Television
on your iPad or smartphones too while travelling.
Not Just UK Channel 4 Online – Watch the BBC on your Smartphone Too
Remember this won't just let you watch All 4 abroad.  In addition to being able to stream Channel 4 in US when you're connected to a British VPN then you can potentially access and watch any UK TV abroad whenever you like. You can effectively unlock any media site wherever you are. You can stream from the BBC and ITV in the UK to the US sites like Hulu and HBO. It even works with subscription channels, unlocking Sky Go or even allowing you to choose which version of Netflix you access (hint the US one is by far the biggest!).
Even if you stick with the free British channels, an inexpensive VPN service like this is much better value than paying for a full cable subscription.  The BBC, ITV, Channels 4 and 5 have dozens of channels between them and what's more they're full of decent shows not 'filler' stuff that you often find on cable and satellite. Most also have a decent archive, you can watch all the BBC box sets now for 12 months or more. Seriously there is so much free stuff on the BBC and Channel 4 archives you'll probably not watch anything else. If you want even more channels look at other English speaking countries too – check out RTE from Ireland for example.
The Best VPNs for BBC, Channel 4, Channel 5 and all British TV
Now a small warning, the market for these VPN services can seem large but unfortunately many of these companies are little more than a website and a simple hosted server. Many of these don't work very well to watch British TV as they keep getting blocked. Most work fine to watch Channel 4 TV shows online but the larger stations like the BBC take measures to try and stop these methods. However you may see reports of companies restricting access and some people have had messages that 4od VPN not working for them.
Check Your VPN Works with Channel 4 or Your Favorite Show
If your priority for your VPN is to access Channel 4 or other streaming services then you should ensure that you choose one of the VPN providers who actually support this. It can be difficult to tell as the decent VPN apps will be careful to not mention specific streaming platforms on their website directly. If you mention the ability to bypass the geo restrictions on channel 4 or BBC for example then you risk being blocked. It's often a mistake that low quality budget VPNs make some even pinch the logos to put on their site too!
The best advice is to check especially if you're concerned about a specific channel, just ask their customer support. A quick method is to use chat support if the company provide that facility. Double check on server locations, security features and the ability to watch specific channels and they should be able to inform you what's supported. there aren't many free trials available anymore particularly on VPNs that work with UK TV channels. However all the best ones offer money back guarantees initially which you can use to check.
All Free Proxies/VPNs are Blocked by Major TV Channels
The reality is that it takes quite a lot of effort and investment to provide a server network that supports these TV channels. The BBC for example is well known for attempting to block these services from accessing their sites.  IN fact there's only a few VPNs that allow you watch the BBC in the USA now. You need a company who will work continually to maintain your access, plus support all the different devices like tablets, iOS, android and even your smart TVs.
The other issue which affects all cheap/ free VPN provider companies is supporting the streaming speeds required to watch live TV online. There are a couple of free VPNs which people try to watch TV through but the streaming experience is usually non-existent as they're so slow. You certainly can't watch HD video through them and often you have to use fiddly browser extensions too. The other reason is that they're often supported by installing or showing ads on your computer which will slow your connection down further. The best VPN services limit the number of users on each server in order to maintain decent speeds and ensure that they are not geo restricted or blocked.
Our Choice for Streaming All 4 in the US – NordVPN
There are professional companies though, and even a budget VPN below who provide secure and fast access to large networks of servers which will work for all the main British TV channels including Channel 4 abroad. It's got simple apps for all your devices, full privacy features enabling to connect to whichever VPN server you need.
Here's our favourite to watch Channel 4 in the US – based on price, speed and a great money back guarantee.
Best value VPN here, enjoy all UK television on all your devices  –


Nord VPN Special Discount