Last Updated on September 11, 2023
Want to Watch BBC News Abroad Live Every Day?
Those of us of a certain age can probably remember dashing around on holiday searching for a three-day old British newspaper so we could catch up with the news. There were usually a few about but normally at hugely inflated prices and worse still it was often just the Daily Mirror available.  It did perhaps help us enjoy our holidays more, isolated from all the terrible news that usually seems to dominate UK TV at least!
Of course, this has now changed completely in the digital age. Anyone with a phone, tablet or laptop can keep up to date with all the local news easily while travelling. Even in the most remote locations, there's likely to be an internet or wireless connection available somewhere. This is all you really need to access most of the UK's News media which is mostly available online.
BBC News on the TV
However, it's not all plain sailing, you can access most of the online newspapers it's true although some do require subscriptions. Yet in today's fast-moving world, even online news can quickly become out of date. Even the biggest news organisations struggle to update their online content particularly with fast moving stories.
It's partly why most of the organisations like the BBC rely on their TV broadcasts heavily especially for breaking news. It's a great way of using their resources efficiently – stream their live News channels online. Most of the largest broadcasters to the same. The BBC for example has a wonderful News channel which broadcasts live 24 hours a day and seven days a week.  It also has News shows on other channels including the award winning Newsnight which you can watch on BBC2 every weekday evening at 10pm GMT.
However, although they release static news reports internationally – this is not the case for all the online radio and TV news broadcasts though. Most broadcast online through portals like the BBC iPlayer and the ITV Hub, but only to their domestic market. All the UK broadcasters restrict access to the majority of their programmes from outside the UK.
BBC Operates Geo-Block on all Streaming Services
Each time any connection is made to the BBC website for example, then the IP address is recorded and checked. If the address is registered to a country other than the UK (and that includes the Republic of Ireland) then you'll get redirected to the international version of the site which has no BBC TV and radio streams. If you try and bypass by going directly to the BBC iPlayer site, then you'll find that none of the video streams including all the BBC live TV and News ones will work.
It's kind of annoying, if you're on holiday and want to keep in touch. It's even worse for ex-pats most of whom probably expected to be able to watch UK television online without restrictions before they moved abroad. You can't even access the BBC UK homepage abroad as you'll be redirected to the 'international version, automatically.  Fortunately, there is a solution, and you can watch BBC News abroad as we can see in the following video –
How Can I Watch BBC News Abroad
So, here's the demonstration where we show how easy it is to use a VPN to access the BBC iPlayer and the news wherever you happen to be.   We're using NordVPN but a few others work as well, be sure to check though before you subscribe (many are blocked by the BBC).
Using NordVPN to Access BBC News Live Stream Channel
So, as you can see, it's a relatively simple solution and one used by literally millions of people across the world to access things like the BBC iPlayer from outside the United Kingdom.  The one demonstrated is called NordVPN however there are several others which ex-pats use too.
Indeed, it was estimated that there were over three million connections from outside the UK watching England's first game in the last World Cup. This of course, should have been technically impossible! Many of us though watch the BBC News every day from abroad without any problems at all using a VPN like Nord.
Hiding Your Device Location
Your location is primarily determined by the IP address you connect with. By using a VPN, you can hide this address and use a 'false one' instead. The VPN service uses its own IP address to make the connection, which if it's based in the UK should allow normal unfettered access.
So irrespective of your actual location if you connect your VPN to a UK based server, that's where you'll appear to be from. You should turn the VPN off or select another country when finished to access non-UK resources and sites.
How to Bypass the BBC News Sign in?
All of the BBC's online content now requires a BBC iPlayer account. You won't be able to watch on any device without one of these. It's not a problem though as long as you have access to a VPN and a UK IP address.
The accounts are entirely free and are primarily used to keep track of your viewing on BBC iPlayer. They use the account to suggest things you like as well as remembering where you are in You should enable you UK VPN connection and then visit the registration page which you can find here – https://account.bbc.com/register/
BBC Registration Information
The accounts are free, but you'll need to supply the following information –
Email/Username
Password
Date of Birth
Gender
Location (you'll be prompted for your Postcode which is the UK's version of a US ZIP code, just supply any valid UK code there's no check).
It's mostly to tailor the content that is suggested. If you're under 18 (and specify that) you'll be restricted from the adult only content. If you're struggling to find a UK postcode to use then there's plenty on this page – Where Can I Get a Valid Postcode for ITV in 2022 (iplayerusa.org).
UK TV Licence Requirement
The scary message asking for a UK TV license often puts a lot of potential BBC iPlayer viewers off. If you're actually physically located in the UK and using BBC iPlayer, then you really do need to have a UK TV license. If you're using a VPN and reside entirely outside the UK then you're not going to be able to buy one. Unfortunately, only UK residents can buy one of these TV licences.
Don't worry about the UK TV Licence Check!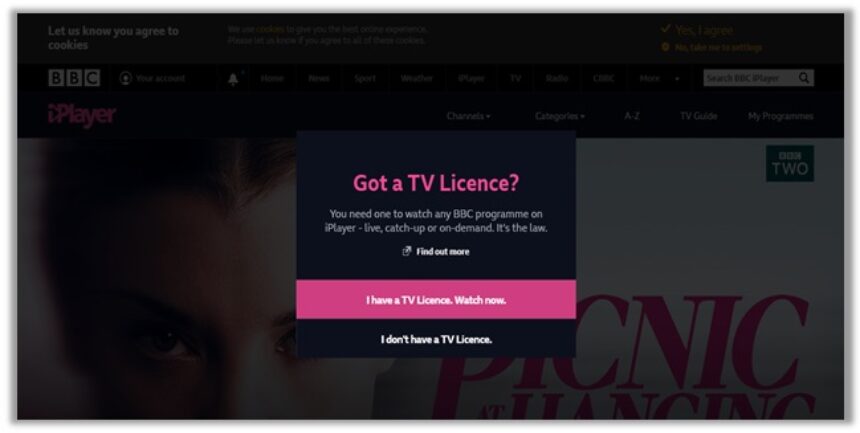 The reality is that this question is easily bypassed – you simply have to say YES. There's no further check or requirement for a reference number or anything like that.
BBC iPlayer Increasing VPN Blocks in 2022?
The BBC is well aware that many people use these VPN services to bypass the country restrictions and to some extent accept this. However, they do actively try and block these connections in specific ways.
Target services which openly advertise and market themselves as TV watching services, then get them closed down.
Monitor number of concurrent connections from individual IP addresses and block those with the most.
The problem that most of the media companies face, including the BBC is that it takes a huge number of resources to keep tracking and blocking these connections. Which is why they only go after the obvious targets, for example by threatening legal action against hosting services they can bring down thousands of outside users instantly. If you search online, you'll come across lots of stories about a BBC iPlayer VPN not working.
This clampdown is likely to continue as the BBC tries to expand its digital footprint. Already they have launched a paid service called Britbox which contains loads of British TV programmes and is currently available in the USA. The problem is that it's still more expensive than most decent VPN services and offers only a small proportion of the main BBC iPlayer service. Not forgetting that the domestic version allows you to watch all the channels live or switch servers to do things like watch Indian TV Channels in USA for example!. The VPN offers the full BBC experience plus every other UK television channel that broadcasts online too.
Watch the World's Best Channels Anywhere with a VPN
There's no doubt that as the stakes rise, then it is likely that the poorest VPN services will get closed down. It is also why you should be wary of the cheapest VPN services and those with free trials. They will always be the ones with overloaded servers which at best will make streaming video painful and slow, at worst will be the first blocked because of the number of concurrent connections. You won't enjoy the BBC news headlines with constant pauses and buffering.
Our suggestion is the one demonstrated in the video; it's called NordVPN. It's very simple to use, and you can test the short trial first to see how it works. You're sure to be impressed and remember it enables all the other British UK channels too like ITV, Channel 4 and 5. Even use it to watch Sky Go abroad and UK Netflix, although you'll need subscriptions to those.