Last Updated on September 11, 2023
How To Get BBC2 In America: How To Watch BBC iPlayer and UK TV Online
You can watch BBC2 in America by using a VPN like NordVPN to hide your real location. Just connect to a UK server and you'll have free access from anywhere.
The BBC has some of the best TV and radio programming in the world. For those of us who love documentaries and current affairs then the channel you'll probably like is BBC 2, unfortunately, normally it's only available to UK residents. In this article we'll demonstrate how this is easily bypassed and you can enjoy the channel free of charge anywhere in the world.
What's the BBC2 Channel About?
Well, it's probably fair to say that BBC 2 generally appeals to a more mature audience. There's little reality TV or game shows on this channel, however there are often less mainstream music programmes which can appeal across the ages. BBC 2 was actually the home of the legendary Old Grey Whistle Test which was once one of the most ground breaking music shows of it's time.
BBC Two's remit is to appeal to a broad adult audience with programmes that cover topics of substance and depth. Of all the main BBC channels (currently 11) BBC 2 has the greatest range although it does focus on educational programming but across a wide range of genres. You will actually find all sorts of shows on this channel although it's possibly most regarded for it's current affairs, news and politics.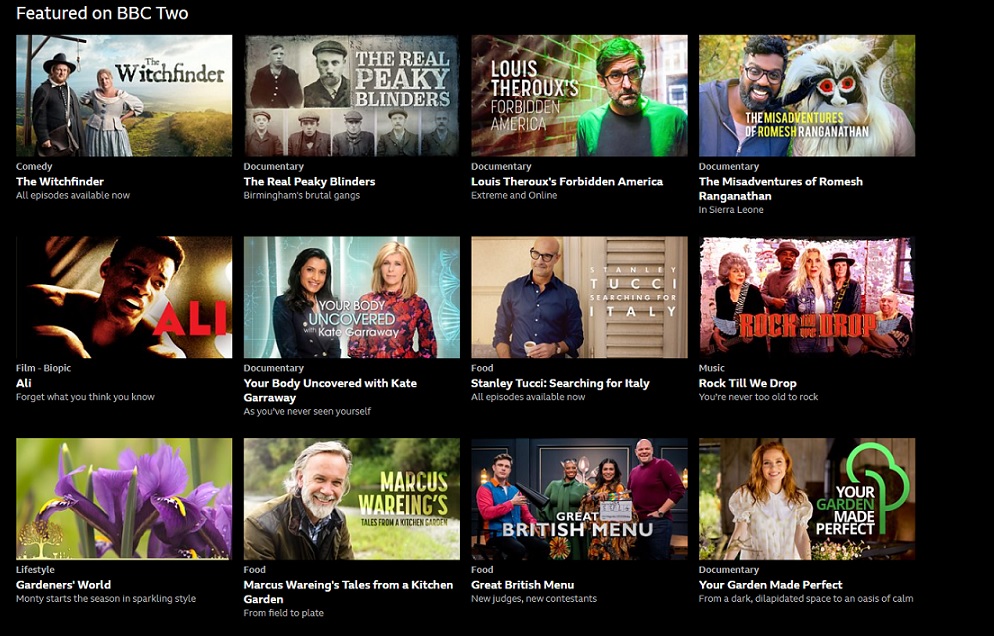 My favourite news and current affairs programme is probably Newsnight which airs every evening at 10pm GMT. Although the BBC has a dedicated channel for news – BBC News which broadcasts 24/7 – Newsnight focuses more on detail. It has access to the BBC's worldwide journalism network and covers in depth the important stories of the day. It regularly has high level and knowledgeable guests from across the world which really help explain current events.
Documentaries, Lifestyle and Education Too
As you can see from the sample feature, there's quite a wide variety of different programmes. Louis Theroux's documentaries are always shown here and there's a huge documentary section in the BBC iPlayer archive too. Hugely popular shows like Gardeners' World and the Great British Menu attract consistently high audiences and are extremely well produced.
What other Channels are on BBC iPlayer?
There are a total of 11 different channels available on BBC iPlayer including BBC1, BBC2 and BBC3. There are also a number of different radio stations as well as the News Channel and two children's channels too. While you're watching or listening to something on iPlayer, there are a few different options available to you. You can pause the video or audio, rewind it and fast forward through it. This is really useful if you're listening to something live and you're interrupted or for entertaining children.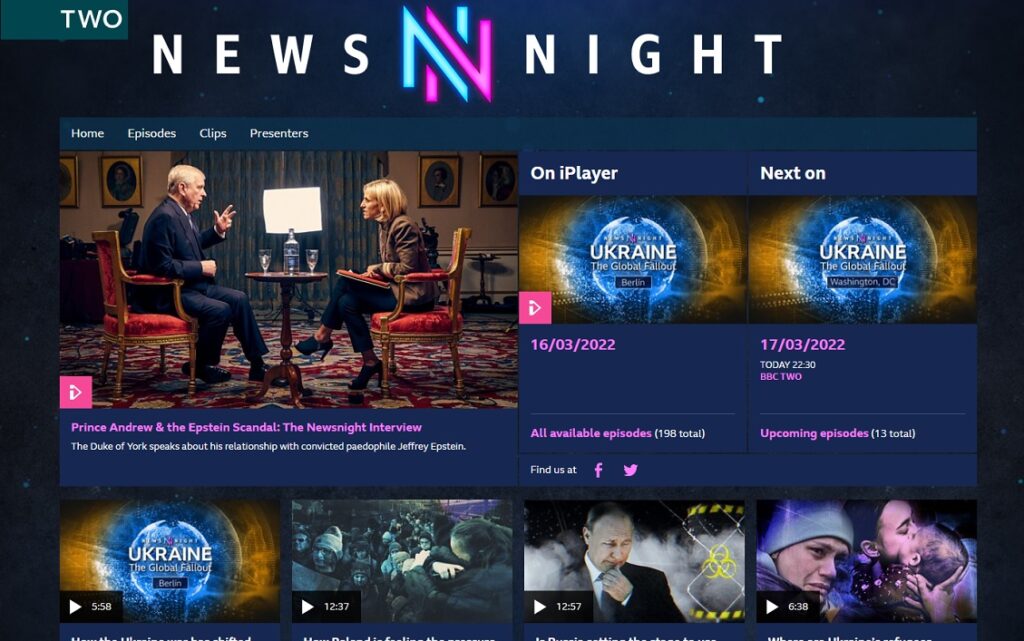 Most but not all of the channels broadcast 24/7 and the majority of shows are stored on the BBC iPlayer archive. Most programmes are available on here for up to twelve months with a few exceptions. As you can probably imagine there's literally thousands of shows and programmes available on demand as well as streaming live.
Can I Watch BBC iPlayer in America?
Unfortunately, BBC iPlayer is by default restricted to UK viewers only. This is supposedly due to copyright restrictions which limit where the BBC can broadcast its programmes. Most large media sites do the same restricting access to their domestic markets. However, as the BBC produces and owns the rights to the majority of its material that is not likely to be the sole reason.
Not surprisingly a lot of the content available for free on the BBC iPlayer generates a large amount of income for the BBC worldwide. Nature programmes like David Attenborough's Blue Planet and Planet Earth are always in demand across the world.
How Does BBC iPlayer know I am abroad?
When you try and connect to the BBC's website from the US or anywhere outside the UK then you'll get automatically redirected to the international version of the site. This is a great little news site with lots of information but unfortunately no real multimedia content and no access to BBC iPlayer. How does this happen? How does the BBC know where I am !
Well it's all done using IP addresses, the unique network number that every device needs to connect to the internet. The BBC is not alone in doing this, almost every major website checks your location when you visit the site. Entertainment sites though generally will use this information to control who has access to their content – usually restricting to users in their domestic market. All the major US channels and sites do the same, blocking access to non-US visitors based on their IP address.
The problem is that we have no direct control over these IP addresses and no way of changing them directly. The issue is only going to get worse as more and more websites use these addresses to filter, block and control access to the internet. It's not just entertainment sites, you'll find all sorts of international companies use this method to maximise their profits. We all get different prices depending on where we're actually located !
How to Get BBC2 Streaming in USA – Simple Solution British VPNs
Although we can't change our IP addresses easily there is another method which we can use to bypass all these filters and blocks to watch BBC in America. It involves using something called a VPN (Virtual Private Network) which is a clever little piece of software that allows you to connect to a server in the UK and then surf the web as if you were actually there. This means that all websites will think your location is in the UK too.
The software is designed primarily to protect your data and privacy. The connection between your device and the VPN server is encrypted. However, for being able to watch things like BBC iPlayer from America the important fact is that your true location is kept completely hidden. The BBC website will still check your location, but it will only see the IP address of the VPN server. So as long as your VPN account is connected to a UK server then you'll have full access to the site.
What's more you can use this software service to change to any location simply by selecting a server in another country. So, you can unlock content and websites all over the world.
Check How Easy it is to Switch your Country using a VPN
It does sound complicated but it's really not as long as you pick the right VPN service. Here's a quick demonstration of how easy it is using one of the leading VPN providers – NordVPN.
As you can see in this video, the VPN is being used to change the location to the UK to watch
British TV
. However, this can just as easily be to a different country, for example Canadians often use a US server to watch American TV. NordVPN includes servers in around 60 different countries all in the basic subscription, so you'll never need to be blocked from anywhere.
How to sign up for a Free BBC iPlayer Account
So, a VPN and an internet connection are all you need to learn how to watch Channel 4 in the USA, in addition to being able to watch all the channels on BBC iPlayer including BBC2 in America? That's true but there are a couple of points that you'll need to be aware of. Firstly, you'll also need an account on the BBC iPlayer site. Don't worry about this as the account is entirely free and easy to get.
You will need to connect to a UK VPN server before you register. Just select a British server then find the register option on the site. You'll be asked a few questions – which are below in no particular order.
Email Address
Anyone will do but if you're worried about privacy then just grab a free webmail account to use.
Age
You'll be asked in order to customize the type of programmes you can watch.
Postcode/Location
The BBC and some other UK TV sites will ask for your post code. It's just like a US Zip code and any valid code will do, there's no verification or check. As long as it exists anything will work from any UK address, copy from somewhere online or if you need inspiration – ITV/BBC Postcodes.
UK TV License
This is the question that worries lots of people who are trying to watch BBC from America or outside the UK. You can see the picture which illustrates how it appears. It's asked during initial registration and usually before streaming a programme.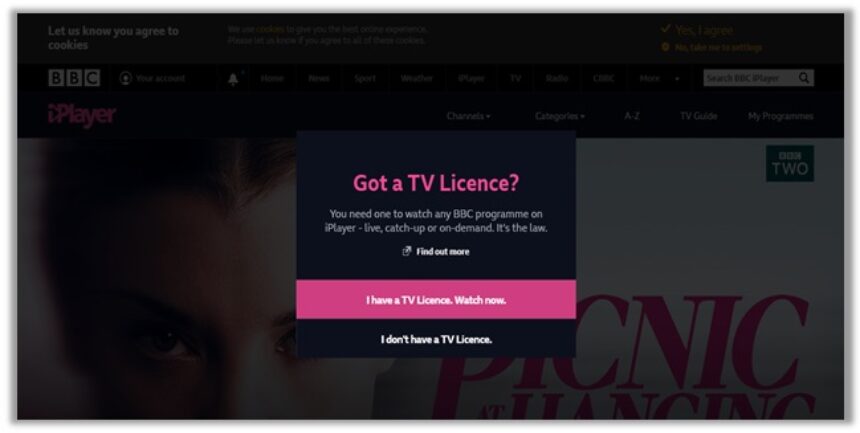 Now owning a UK TV license could be difficult for many of us, simply because you can't actually buy them outside the UK. However, the question is nothing really to worry about as long as you answer, 'Yes I Have a TV License'. Now apart from having to tell a bit of a fib (unless you do have license) there's no real problem. There's no validation or check, as long as you say Yes, you'll be fine.
Best UK Streaming Services Alternatives for BBC iPlayer
There are lots of great TV stations in the UK and all of them have great online sites too. The best is obviously the BBC iPlayer which has thousands of shows and programmes plus 11 full TV channels that broadcast live online. However not far behind is the UK's biggest commercial channel – ITV Hub which is the home of many world-famous shows like Downton Abbey and Coronation Street.
Here's a quick rundown of some of the best UK streaming services all of which are free and accessible
ITV Hub
ITV is the biggest commercial channel in the UK and ITV Hub is their online home. ITV Hub is fully compatible with most devices so you can watch live TV including your phone, tablet or computer.
All 4
Channel 4 is a British public-service television broadcaster which began broadcasting on 2 November 1982. It is governed by the Channel 4 Corporation, and is a public corporation of the Department for Culture, Media & Sport
My 5
Channel 5 is a great channel for reality TV shows and the best British soap operas. It also has a lot of imported shows and films mainly from the US.
There are a few others and if you leave your VPN connected to a UK server you can also use any of the Premium subscription channels too like Sky Go, Now and BT. You will need a subscription for these though, the VPN doesn't bypass paywalls only the geo-blocks.
Why I Use – NordVPN (Not Blocked by BBC)
There are lots of VPN services available and in theory any with UK servers will work with all the UK TV stations like BBC2. A few years ago this was the case, you could search for the cheapest and they'd usually be fine. Indeed there were even some of the free VPNs which would work quite well too – although they always suffered from speed and buffering issues.
In 2022 this is no longer the case as unfortunately lots of the major TV stations have started to try and block this workaround. At the forefront of these efforts in the UK is the BBC iPlayer who previously did not seem to be particularly concerned. Why the BBC suddenly started trying to detect these VPNs is uncertain, but it has been effective.
Currently the majority of popular VPNs won't work with either the BBC, ITV or both. Problems have been reported with many of the most popular like ExpressVPN, Surfshark and Cyberghost for example. No-one has figured out how to directly detect and block a VPN service but there are methods of identifying the connections. The most obvious one is when thousands of people connect using the exact same IP address to start streaming content. This is highly indicative of a proxy or VPN, simply because normally IP addresses are not shared to this extent.