It's started, the most eagerly awaited tennis tournament of the year, Wimbledon 2015 is here.   You can watch it on a few media stations online, but in my opinion there's only one real option and that's the BBC.   On their web site during the tournament there's the majority of the matches streamed live and you even get John McEnroe included too.     Just go to the main BBC website at www.bbc.co.uk and select the TV link from the top of the screen and you should see the following.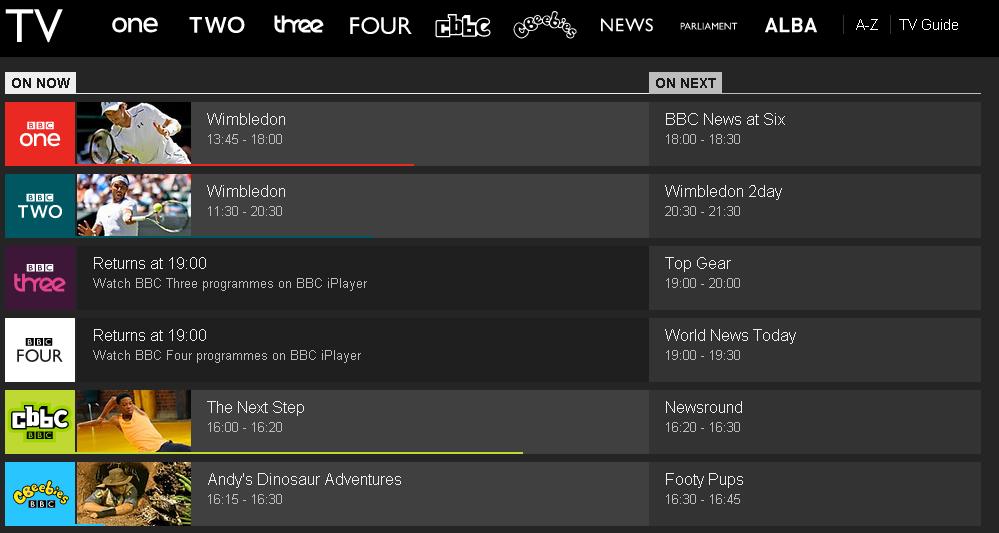 You can select any of the channels and stream live, including pausing and rewinding if you miss parts.   The broadcasts are also streamed via the BBC iPlayer so if you miss a match then you can catch them up for a few weeks after on the iPlayer application.
However there is a problem for me and the thousands who love the Wimbledon Tournament, all this coverage is only available if you're inside the UK.   If you visit the BBC website from anywhere else you'll actually be on the 'International' version which you can tell because it will have adverts on it.  If you visit the TV link from this site, all you'll get is promotional stuff and a few trailers – you won't be able to watch anything live at all.
Anyway fortunately there is a solutions, just watch this video which shows you how an online IP changer works.
As the video explains all you need to do is hide your real location by connecting through a UK server somewhere. This means that the BBC thinks you're actually located in the United Kingdom and will route you through to the fully functional BBC website where you can watch anything you like without restrictions.
The subscription does cost something in order to pay for the fast servers, bandwidth and support but it's very inexpensive. In fact for little more than the cost of a coffee and a sandwich you can get the . which will cover you over the rest of the tournament.
The software also works on smart phones, tablets and laptops plus quite a few other devices, check out the members area for guides. I personally use on my ipad mainly but also on a laptop if I'm at home.