Last Updated on October 26, 2023
Watch BBC iPlayer Wimbledon Live Streaming Coverage
It's almost here, the most eagerly awaited tennis tournament of the year, Wimbledon 2023 is just around the corner. As you'd expect, Wimbledon coverage is syndicated to lots of TV channels all over the world. You can even watch it on a few media stations online, but in my opinion there's only one real option to enjoy the unique atmosphere and that's to watch it on the BBC. On their web site during the tournament there's the majority of the matches streamed live and you even get John McEnroe included too, although of course we won't be seeing Boris Becker this year = Boris Becker sentenced – GOV.UK (www.gov.uk) .
So, if you want to learn how to use a cheap VPN like NordVPN to unlock the BBC and enjoy the extensive Wimbledon coverage just read on.  There's even a video demonstrating below too.
BBC Wimbledon Coverage
Just go to the main BBC website from the 27th of June and you'll see a link to the main Wimbledon site.  You'll be able to access the Live Streaming options from there plus all the previous episodes if you've missed any matches you want to watch.
You can select any of the channels and stream live, including pausing and rewinding if you miss parts. The broadcasts are actually streamed and archived on the BBC iPlayer so if you miss a match then you can catch them up for a few weeks after too.
Watching the Wimbledon Tennis Tournament Outside UK
However, there is a problem for me and the thousands who love the Wimbledon Tournament and want to watch it on the BBC. That is that although all this coverage is freely available on the BBC's website it's only available if you're inside the UK. If you visit the BBC website from anywhere else, you'll actually be on the 'International' version which you can tell because it will have adverts on it. If you visit the TV link from this site, all you'll get is promotional stuff and a few trailers – you won't be able to watch anything live at all.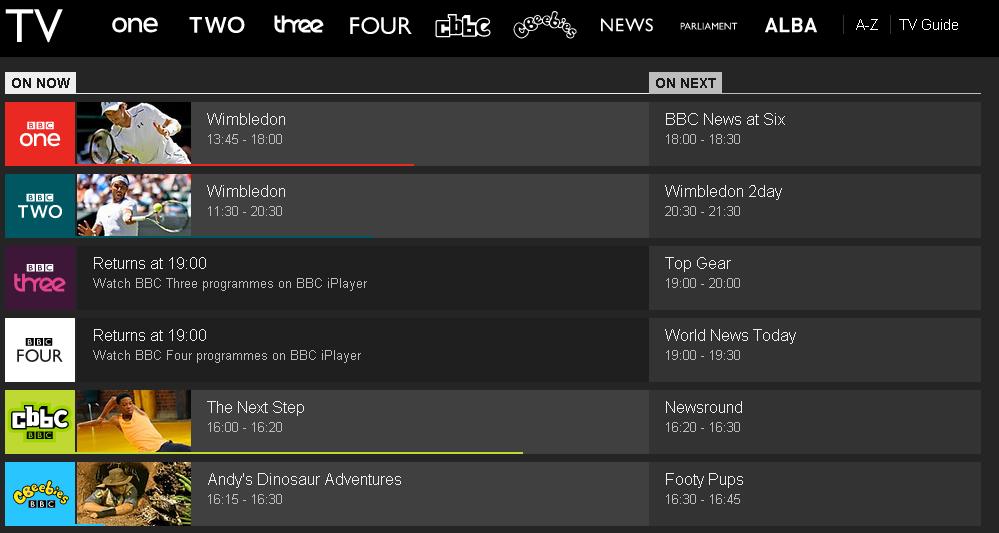 BBC Uses Geo-Location to Block Non-UK Visitors
The practice is called geo-location (or geo-blocking/filtering) and it involves looking up a visitor's location when they arrive at a website. Almost every web site does this, although most of them just use this information for research and marketing purposes.
However, many of the larger websites particularly in certain areas like media, finance, retail and gambling will use this information to control what you can see on the site. So, in the case of the BBC, they use this technology to allow all UK domestic visitors to use the site freely. However, all visitors from the US or indeed anywhere outside the UK will be routed to the international version. They'll also be blocked from watching any Live TV channels or streaming from BBC iPlayer too.
Change the IP Address the BBC Site Sees!
The key to geo-location is your IP address, the unique network number which allows access to the internet. These can easily be used to determine your location as they are always registered to the country in which they are used.
Unfortunately, you have no control over this address as it's assigned by your ISP (Internet Service Provider) or the internet connection you're using. You certainly can't request a British IP or a French IP address to use instead. However, there is a way to change the IP address that these websites see and hence bypass all of these blocks and filters.
Using a VPN to Switch Location
So, there is a solution and fortunately it's actually quite simple, just watch this video which shows you how an online IP changer works.
As the video explains all you need to do is hide your real location by connecting through a UK server somewhere. This means that the BBC thinks you're actually located in the United Kingdom and will route you through to the fully functional BBC website where you can watch anything you like without restrictions.  It also means you can watch the other great
UK TV channels
abroad
like ITV Hub
and
Channel 4 too
.
Click Another Country to Watch Other Stations
We love the BBC's coverage of Wimbledon but there are lots of other options too. Many other countries have TV stations which cover the major Tennis tournaments, and you can watch a lot of those too.
Not all are free like the BBC iPlayer though and although a VPN will avoid geo-blocks it won't bypass the need to subscribe. There are plenty of free to air options though – check out Australian, Canadian and New Zealand TV channels. If you can speak another language, you have even more options. In the UK there are some streaming channels on the betting site where you can watch the coverage too if you connect to the corresponding country.
Choose the Right VPN Service
Although the BBC iPlayer is free you will need to pay for a VPN service if you're outside of the UK. The subscription does cost something in order to pay for the fast servers, bandwidth and support but most of them are very inexpensive. In fact, for little more than the cost of a coffee every month you can get a great VPN with servers all over the world.
The best companies have software which also works on smart phones, tablets and laptops plus quite a few other devices. Check out the different providers for what they support. I personally use NordVPN which I have installed on my iPad, computer and smart phone plus mainly use on a laptop if I'm travelling.  It works well with the BBC (especially if you use the BBC optimized servers) and is very reasonably priced too.   During the football season I use it all the time to watch the Match of the Day live stream on Saturday night and for midweek matches – works a treat.
Many VPNs are Blocked by the BBC
Previously any VPN service which has UK servers would work perfectly for accessing the BBC iPlayer outside the UK. However, this is no longer the case as the BBC started to try and block this VPN workaround in around 2020. We won't explain the method here – although if you want to read more about it you can on this page. The fact is they were extremely successful, and the majority of VPNs won't work with the BBC iPlayer anymore.
There are a few like NordVPN that still work fine. It's worth checking if you're going to subscribe for a long period, or at least make sure there's some money back guarantee available if it doesn't. Make sure you try everything out before the tennis starts too if you want to enjoy the whole tournament.