Last Updated on September 8, 2023
BBC iPlayer Canada – How to Watch UK TV in 2023
The BBC iPlayer application is probably one of the most popular sites on the web. Using it, you can not only watch just about every BBC show live, but you can also stream the programmes for up to twelve months after.
For me it's the news and documentaries which are my favorite, however others like to watch sports, soaps and comedy shows online.
Summary of How to Watch BBC iPlayer in Canada
Sign up to a VPN service with lots of fast UK servers (we suggest NordVPN)
Install the software on all your devices
Connect to one of their (BBC Optimized) UK servers (list at bottom of page)
Sign up for a free BBC iPlayer account (put in any UK postcode)
Confirm you have a UK TV licence (there's no actual check)
Stream all 11 BBC channels and watch old episodes from the archive (see video below)
Plus, you can sign up to ITV Hub, Channel 4 and Channel 5 for loads more live UK TV channels free of charge.
Disconnect VPN to return to Canadian based browsing
The Planets on BBC iPlayer
There is little doubt that there is a quality and depth in UK TV that's hard to find in other places, particularly to watch without advertisements. I've just finished watching an amazing documentary called The Planets which is presented by Professor Brian Cox.  I can thoroughly recommend it to you – worth buying or you can simply use BBC iPlayer to check if the latest series is available in 2022.
Huge Choice of iPlayer Content to Stream
The BBC is packed full of world class documentaries like this, every new show is archived there for at least twelve months after broadcast. Sometimes they are available for much longer, although this depends on licensing arrangements.  You can watch as many times as you like, it's the perfect solution on how to watch BBC one in USA, Canada or indeed anywhere in the world.  Also, you can also use the BBC download application to store programmes locally and watch without an internet connection. It's an incredible streaming service lots of channels and thousands of TV shows.
One of the options you had to access the BBC outside the United Kingdom previously was buy subscribing to BBC Canada unfortunately if you visit their website now – you'll see the following message –
ABOUT BBC CANADA As of January 1, 2021, BBC Canada will no longer be available. We apologize for any inconvenience and hope that you will enjoy similar content on our many other specialties channel such as W Network and Showcase. Your Service Provider will be able to answer any questions you may have about your television package.
BBC iPlayer Geo-Blocked Outside UK
Unfortunately, due to the way the BBC is funded the application is restricted to the United Kingdom. If you try and access BBC iPlayer in Canada, then you'll be blocked from viewing.
You'll get a message something like this –
BBC iPlayer Blocked Message
Which basically informs you that the BBC iPlayer application only works in the UK, except that's not quite true. There is a way to unblock BBC iPlayer, which is actually quite easy to do and used by hundreds of thousands of people all over the world to watch the BBC iPlayer abroad and from outside the UK.
Barriers Based on IP Addresses – Geo-Blocking
The method relies on the fact that the block is implemented based on the location of your IP address – it's called a geo-block. This is the unique number assigned to your computer when you go online, any web site can look up where the address is registered and therefore determine your location. Which is exactly what the BBC website does, when you connect from Canada or the USA – your location will be determined, and you won't be able to access iPlayer. It's not just the BBC which do this, thousands of the world's biggest media sites do the same thing.
All the major Canadian TV channels and other streaming services like CBC and CTV do exactly the same, as soon as you step outside Canada, they will be difficult to access. Same in the US, all the major US media sites like Hulu or ABC are inaccessible from outside the United States. It's also called Geo-Targeting and is basically a way for a website to control what you can access depending on your location. Sometimes this is due to licensing and copyrights, however often it's simply a way to maximize profits.
So How to Watch BBC iPlayer in Canada?
There are technically two requirements that you need to watch the BBC iPlayer content – one is to be located in the United Kingdom and the second is to have a valid British TV license.
Do I Need a UK TV License?
Fortunately, the BBC can currently only check one of those requirements – where you are physically located. When you connect you will also be asked if you have a UK Television licence, but there's no further checks to see if you've paid the licence fee other than asking you.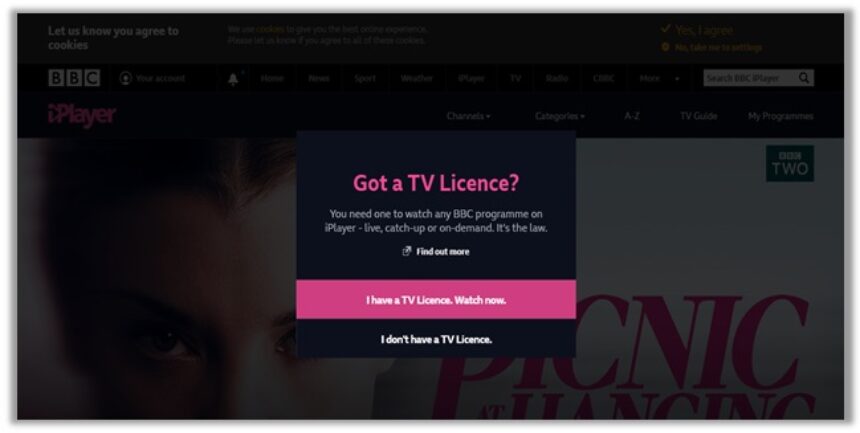 Obviously, you have to answer yes to proceed any further and unblock BBC iPlayer though!  If you say you haven't then you'll be redirected to the international version of the BBC (which has no streaming or access to iPlayer)
Many of the Canadian TV companies ask for confirmation of cable subscriptions like this but they actually prompt you for a subscription number for verification. Remember the BBC doesn't do this, if you say you have a TV licence then that's it! You will need to create a user account, but there's no check there either apart from asking for a valid UK postcode – anyone will do as long as it exists.  Here's one for the Ritz in London W1J 9BR but you can use any valid address anywhere.
Hiding Your Location to Get BBC iPlayer
So actually, all you need to do is hide your real IP address and ensure that it looks like you are based in the UK before starting your web browser. It sounds difficult but it's actually very simple using what's called a VPN service (virtual private network) or proxy server. This is effectively a computer that sits between your computer and the web site you're visiting – hiding your location and forwarding all your data. If the proxy is a UK server, then your location will also be registered as the UK, and you can get full, unrestricted access to the BBC iPlayer.
All this talk of using the best VPN to access iPlayer abroad sounds complicated but it really isn't in practice. You just install a little application on your phone, computer, tablet or laptop then click on the right country to connect.
Streaming BBC iPlayer App through a VPN
This video shows how easy it is if you use an inexpensive VPN service to watch BBC iPlayer outside of the UK.
That's all there is to it and using an application like NordVPN you can also access sites blocked in other countries too. Want to watch the news on a US TV channel, listen to Pandora or catch a show on Hulu – it works just the same. Instead of watching the BBC News then simply select a US VPN server instead of a UK one and watch a US based News channel like NBC. Prefer to watch something in French, then try out the excellent M6 Replay site which broadcasts from the French TV stations.  Remember to disconnect the VPN when you've finished or switch to a server in your current location to maintain the security aspect.
How to Watch BBC One in Canada
BBC One is available to stream live on the BBC iPlayer website and application.  It's the BBC's main channel and you'll find many of the most popular shows here.  From Come Dancing, BBC News and Match of the Day – if you're looking for a major show or drama then you should check this channel first.
Don't Forget the Rest of British TV Too
If it's primarily British TV, you're interested in then there's much more than the BBC you'll want to watch. There are many fine shows on the other major UK TV channels which are also accessible online as long as you connect to a UK VPN server first.
Watch ITVX
The UK's biggest commercial channel has a similar site to BBC iPlayer called the ITV Hub. It's famous for some great dramas and soaps plus lots of other great TV shows. It's the home of the longest running soap opera – Coronation Street and of course the internationally acclaimed Downton Abbey.

There are hundreds of shows on ITV Hub again all available completely free of charge. Remember though ITV is a commercial station so do expect some advertising, it's not that intrusive though and you can pay for a premium version in the EU which removes these. The other major UK channels which you might want to watch are Channel 4 and Channel 5 all of which have some great stuff too. Although most people investigate using a VPN because they want to watch BBC iPlayer abroad – don't ignore these other channels.
Does the BBC Block VPN Access?
Now from the end of 2016 there were some significant developments in the way that many of the media companies were dealing with VPN access. Although they have always been discouraged, most have only made minimal efforts to block access. However, many people found in 2017 that BBC iPlayer not working through VPN services.  Suddenly many people were finding that the BBC iPlayer VPN workaround was no longer working for them.
Many VPNs were Blocked Automatically
What happened was that the BBC started a bit of a crackdown on these services presumably to encourage people to buy their programmes online instead. However, it is important to remember that there is no way of the BBC iPlayer detecting VPN services directly. What they actually did was to start to look for overloaded IP addresses with too many concurrent connections. Furthermore, they started to target those VPN companies who openly advertised their service as a TV watching one!!
Best VPNs to Watch BBC iPlayer Anywhere
The well run, professional VPN services have been largely unaffected, and all should still work perfectly. Occasionally you'll find individual IP addresses getting blocked but most of the established companies have literally thousands of IP addresses available to switch out when necessary. So, if you pick your company and test their connections first you should have no problem with accessing BBC iPlayer through a VPN in 2022 and beyond.
NordVPN servers gives you access to a huge global network which you can use to watch content from anywhere in the world. You can also use it on Smart TVs, Smart phones (install the iPlayer app), tablets and Macs plus virtually any streaming device you have. If you've ever been locked out of any media site because of having the wrong address, then it's worth the small price. Try it out there's a 30-day money back guarantee while you test it out, remember to use all the security features too especially when travelling.
If you decide to use Nord for BBC iPlayer then make sure you use the servers which they optimize for that service – currently these are UK: #764, #977, #1025, #1388, #1512, #1515 K #836, #1043, #1057, #1320, #1483, #1513 #1448 #1325 #1347. Most others should work but these ones are checked and monitored to ensure they're not blocked by the BBC.